The Way to San Felipe, our previous article , talked all about this old Spanish Road and what it connected.  I got a little more clarity from an Evergreen Native who knows it from experience.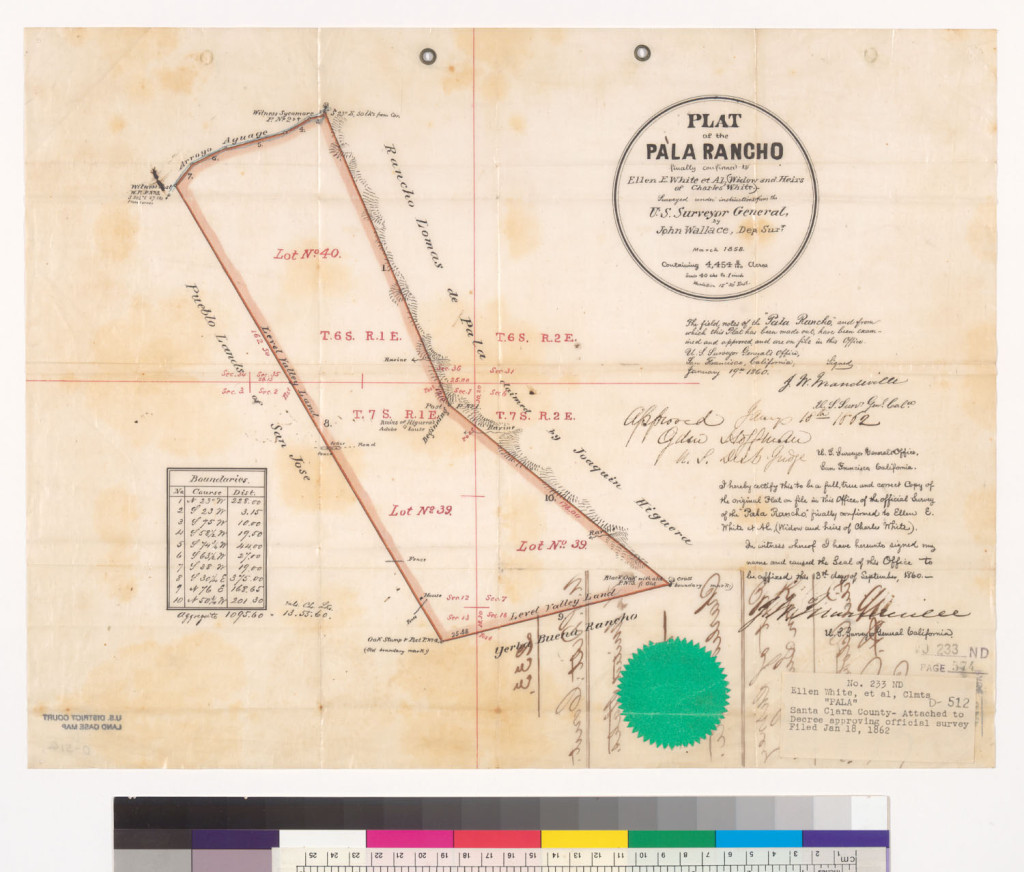 White Road changes to San Felipe as it crosses Aborn Road.  It cut in half Rancho Pala, which was purchased by Charles White, who arrived in town in 1833.  Only a sliver of this Rancho makes it into our Evergreen borders.  Rancho Pala ends at Norwood Avenue.
Further down the road, present day Aborn Road has had many names, Evergreen Road, Chew Lane and Aborn Road.  That inconsistency makes orienting yourself on different maps a little difficult.  It is at the intersection of Evergreen Road and White/San Felipe Road where the town of Evergreen really developed.  You'd never know it by the looks of it today.
Quimby and Tully Roads have switched spots and Capitol Expressway is a fairly new roadway.  This makes it rough, too, but it's okay.  We're talking about San Felipe Road here.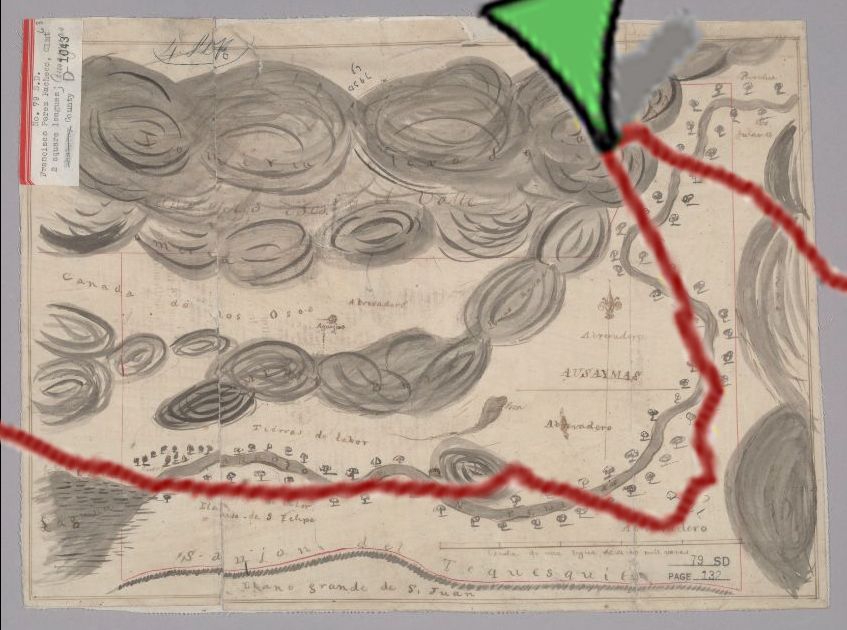 Previously, I worked the current Google map of San Felipe Road against an old Spanish Survey to Rancho San Felipe.  They were close enough for me to feel like I was looking at the same roads.  I accounted for some inaccuracies because it's so old.  The lake is Lake Cunningham, but ought to point North and doesn't.  The compass notes rather where water flows down from.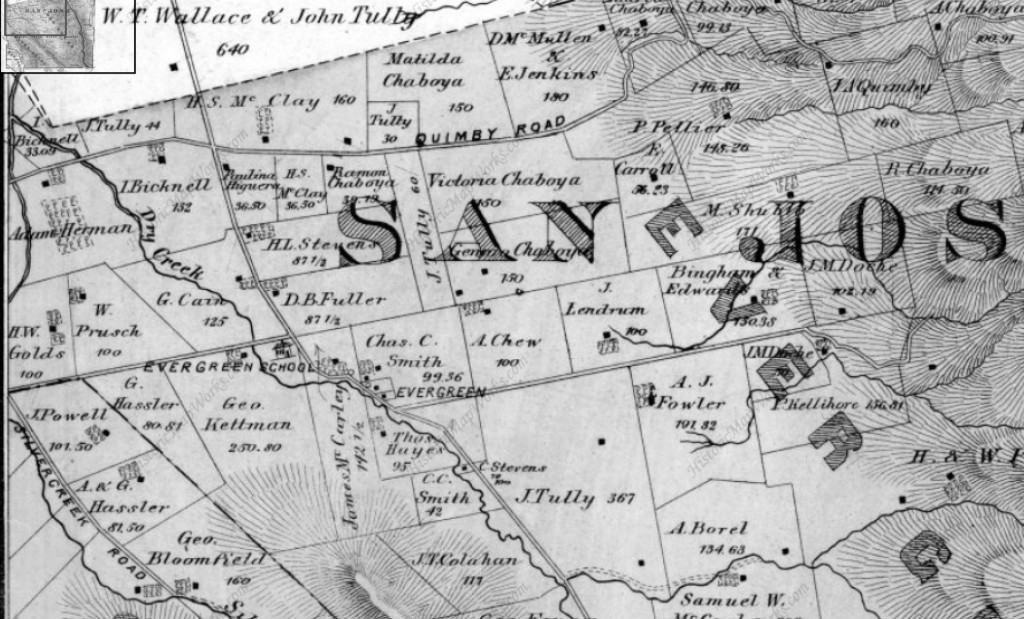 Also, in 1800's versions of Evergreen maps, San Felipe Road travels next to a creek bed and I couldn't think of where that would be.  The Creek is closer to Kettmann Road and the Evergreen Library Branch.  But when I sat down with Evergreen's Judge Jerry Kettmann, he brought a little more light to the subject and old geography.  This is a 1876 Map of Evergreen.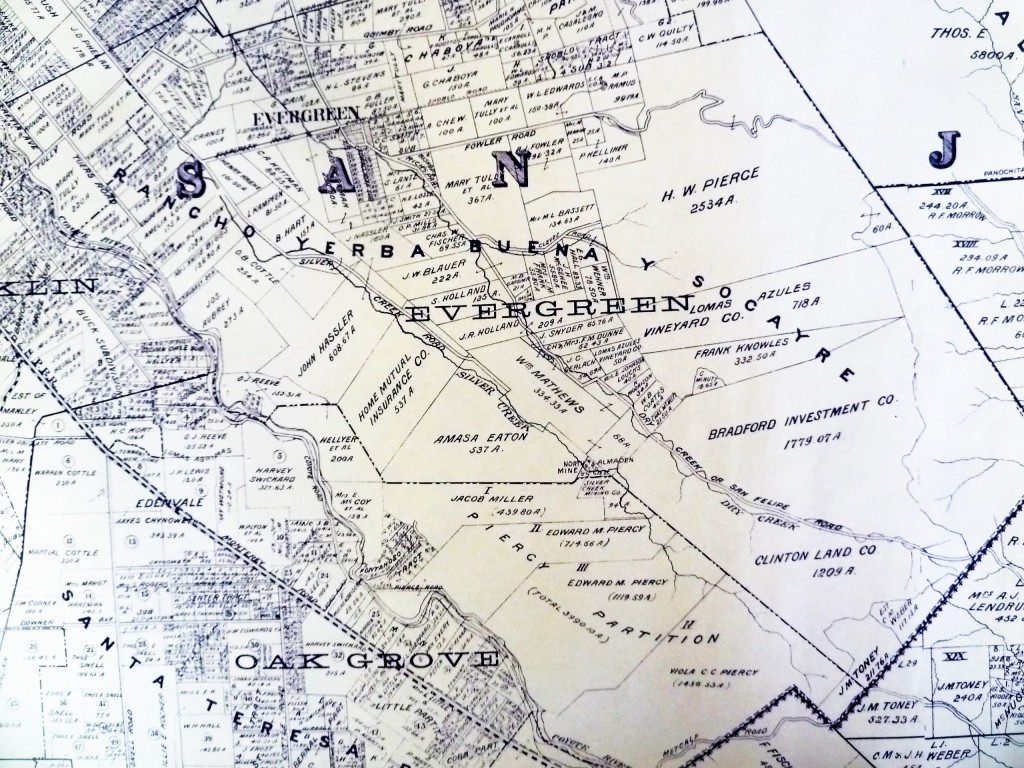 Judge Kettmann's uncle, Andy Kettmann owned a Saloon located on San Felipe Road.  There are some pretty awesome tales out of the Saloon, but I won't be spoiling those or Jerry's interview for you at this time.  His Honor comes from a long line of colorful characters, though.  He took me for a little drive and helped me get an understanding for what "Downtown" Evergreen was.  This is a Map from 1902, true to North.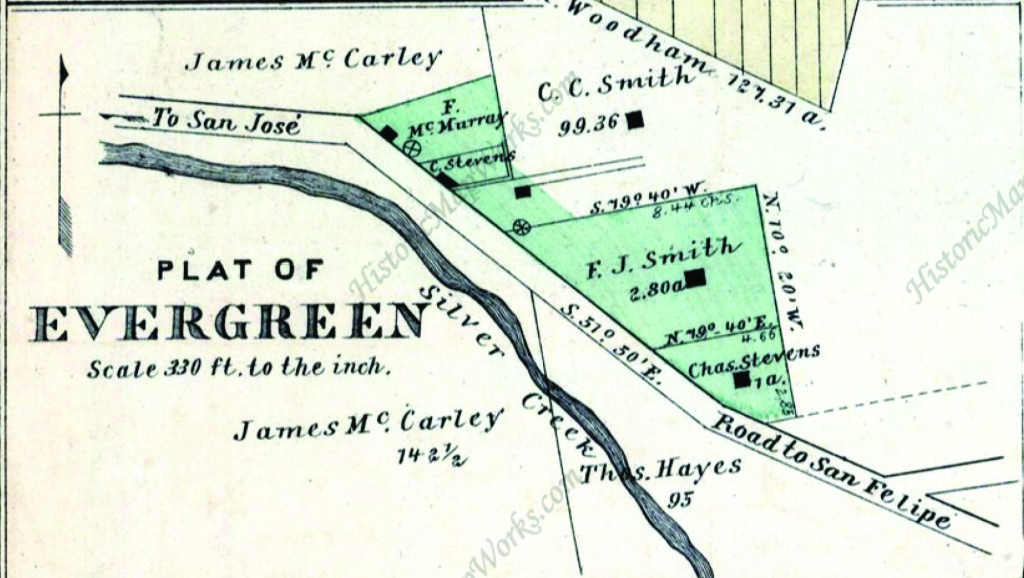 The Smiths were the first family to have moved into town in 1866.  Charles C. Smith and his brother, born in Germany in the 1840's, bought large tracts of land from the Yerba Buena land grant, with Evergreen Road dead ending at White/San Felipe Road originally.  The Stephens/Stevens family were next, making up the original Plat of Evergreen.  Francis Joe Smith owned and operated the General Store and was postmaster.  His brother was the town blacksmith, and the blacksmith shop is where Hinman's Garage is today.  His daughter Katherine, for which there's a school named, was a beloved teacher.  L. C. Smith's house still stands today.  Their homes and businesses were right off San Felipe Road between Aborn Road and Yerba Buena Avenue.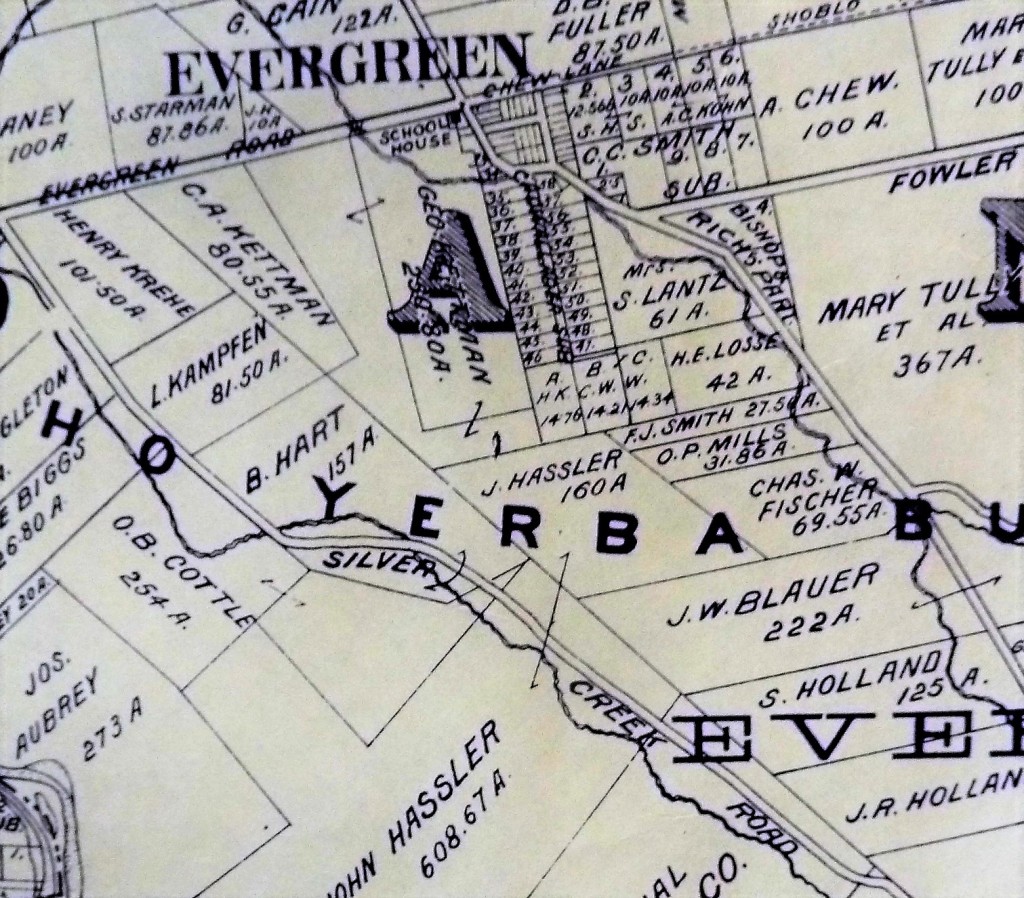 Speaking of teachers, the location of the school house was a mystery to me.  From Barry Swenson's describing of it, I still couldn't place it.  I have photos of it, but there's no evidence of it anywhere.  It's here at the intersection directly adjacent to the Kettmann property.  There's a reason.  Where the Valero Gas Station and shopping center currently sit, the Evergreen School House once stood.  The odd curvy street behind the Wells Fargo, Keaton Loop, was once San Felipe Road.  And the bridge over the Creek between Keaton Loop and the Cadwallader neighborhood was a busy path into town.  The Cadwallader Subdivisions was once of the first concentrations of developments in Evergreen.
The reason the maps didn't line up perfectly was because this path had been revised for a more direct route with better flood control.