The Evergreen Mural Walk would be a series of murals that would brand and beautify the large, diverse community of Evergreen.  Its visual contents would include the rich heritage of orchards, vineyards and farming that originally existed here.  This would include the Ohlone Indians native to Evergreen and vacqueros who met them.  Antonio Chaboya owned the first Mexican grant title in the area in 1833 of 25,000+ acres of Rancho Yerba Buena.  The School District opened in 1860.  This includes the Valley of Heart's Delight imagery.  I would include our inventors like John J. Montgomery and Daniel Maloney who flew gliders over the hills in the 1890's-1900's.  This mural walk would feature the generations of Pellier/Mirassou and their vineyards.  This would include our landmarks like Evergreen Village Square, Evergreen Valley College, Hillview Airport and others.  There is a wealth of material celebrating the village Evergreen of the past and the pocket of a vibrant San Jose today.
On a wide lens, focused on the City of San Jose, the goal would be to create some tourism through the Evergreen Mural Walk.  People come to Evergreen for Raging Waters and Eastridge Mall.  If we could create a reason to stay here in Evergreen a little longer, this would generate money for the local businesses in the area.  Other smaller cities, like Hayward, California, have had a lot of success with tourism through public mural series.
Community wide, the Evergreen Mural Walk can beautify the neighborhood, limiting crime and vandalism.  Graffiti artists love blank canvases, which are plentiful in this community.  Police spokesman Albert Morales spoke to Bloomberg Business about Evergreen, noting that it is home to many street gangs and has been victimized by an outbreak of burglaries. "The gang members realize that it's very profitable to target these affluent areas," he said, stepping up patrols in response.  Overall, I believe this would raise school test scores and raise home values, as the community takes pride in itself.  Allowing neighborhood participation brings it together.  Businesses closest to the site have the most to gain.  A local business's support for the Arts changes its identity to its neighbors and customers, generating good will upon discovery.  In all these instances, the City of San Jose saves money and gains infinitely.
ABOUT THE LOCATION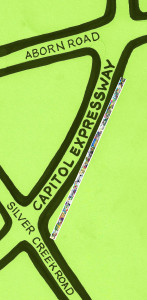 The Evergreen Mural Walk would be located at Capitol Expressway and Silver Creek Road, a gateway to the Evergreen community, and a corner that could use a healthy dose of love.  It is a well worn path to 4 public schools, a main bus line, a Community College, a mall and thousands of residences.  These murals would be bright and bold.  The project is designed with classical and modern elements, honoring the history while embracing today's diversity in Evergreen.
The Mural Walk is designed to create maximum positive affect with a community collaborative effort.  There will be at least three rounds of fundraising.  Crowdfunding is a particular bright spot in this project as it allows the community to participate directly and adopt their piece of public art.  With your help, this can be sustainable and hopefully bring more money and higher home values to Evergreen.
ABOUT EVERGREEN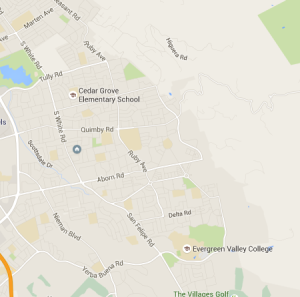 The Evergreen area of San Jose, California, is a large district of Southeast San Jose, bounded by Tully Road to the north, US 101 to the west, San Felipe Road to the south and the East Foothills neighborhood on the eastern edge. Evergreen is located on the far eastern edge of Santa Clara Valley with the Diablo Range bordering the area to the east.  The Zip Codes are: 95148, 95121, 95138, and 95135.  For Historical information, please see our Research page.
The median home value in Evergreen is $853,200. Evergreen home values have gone up 8.5% over the past year and Zillow predicts they will rise 2.4% within the next year.
There are 15 public schools in Evergreen and a total of 226 public schools in San Jose.  Gemellos has painted for 5 of them, prevent graffiti and vandalism.   There are 4 private schools in Evergreen and a total of 67 private schools in San Jose.  There are 1 post-secondary schools in Evergreen and a total of 20 post-secondary schools in San Jose.  The student to teacher ratio in Evergreen for public schools is 22:1, which is 8.4% greater than the San Jose student to teacher ratio and 9.7% greater than the California student to teacher ratio.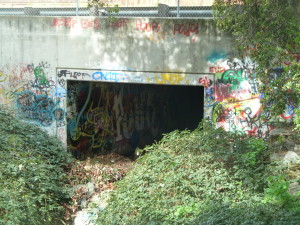 Graffiti and vandalism is an issue I see rising in the public schools.  The overall crime rate in Evergreen is 47% lower than than the national average.  For every 100,000 people, there are 4.47 daily crimes that occur in Evergreen.  Evergreen is safer than 78% of the cities in the California, but let's make it safer.
Evergreen was named for its ongoing lush green hills, not for pine trees.  In fact, there aren't many indigenous pine trees in the area, but instead rugged oak trees.