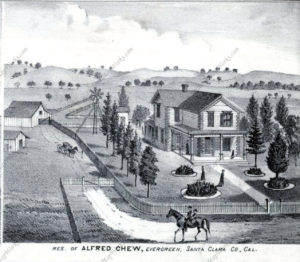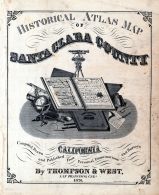 The people and places featured in books and publications back in the 1800's were highly regarded as well as some of the only glimpses into other places at the time.  Alfred Chew was made popular by the Thompson and West Altas published in 1876.  Print was a limited medium, but made the exchange of information possible.  Tales of the Western Frontier being tamed were becoming public knowledge as fruit, dried and canned, would reach the East Coast from Santa Clara Valley.  The building of railroads brought many people to California through and after the Gold Rush, but also made the export of fruit and curiosity a real commodity.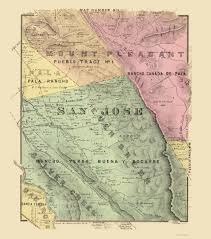 Images of Santa Clara Valley were published for the whole world to delight in, along with our bountiful produce in the Valley of Heart's Delight.  This would've also served as a tourism guide of landmarks to see when visiting the area.   Evergreen and Silver Creek were located in the Rancho Yerba Buena Survey, eventually becoming the whole of Evergreen.  The associated map for the above photo is to the right, from Thompson and West's 1876 Atlas with Alfred Chew's residence featured.  Fitting, the Survey of mention is in green.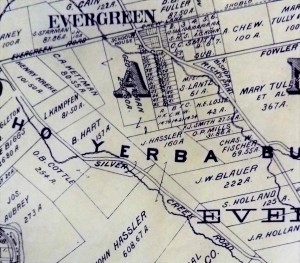 As you can see from this 1890 map to the left, before the turn of the century, Aborn Road was known as Evergreen Road west of White Road and San Felipe Road.  To the East of San Felipe Road, the heavily driven Evergreen artery Aborn Road was known as Chew Lane.   The Chew property is also featured here in the 1890 map at the top right corner along Chew Lane.  That got me chewing on who Alfred Chew was.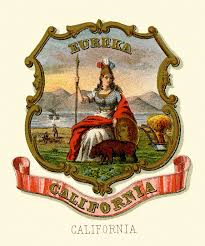 Mr. Alfred Chew (1834-1910) would do a little traveling from his Ohio home front before settling down.  Young Alfred would come with his parents, Morris Rees Chew and Mathilda Crumley, to live in Illinois before traveling West on his own.  In 1853, Alfred Chew would start his journey West with the Kirkpatrick Company, headed for Oregon and making the most out of getting lost at the Missouri River.  Kirkpatrick didn't immediately arrive in Oregon that time.  Before becoming a farmer in Evergreen, Alfred would meander South into California.  We know about Mr. Alfred Chew for his leadership in early California Statehood in different areas of the State.  Alfred Chew would run cattle through Gilroy before he would suffer from typhoid fever.  Before returning home to Illinois in 1860, Mr. Alfred Chew would pursue government posts, and surely a different type of occupation than he had before.  He was the US Deputy Surveyor for San Luis Obispo County in the late 1850's.  Alfred Chew would return to Illinois and marry Margaret Kennedy, returning to Evergreen with his new bride.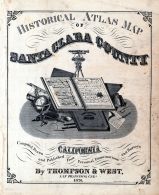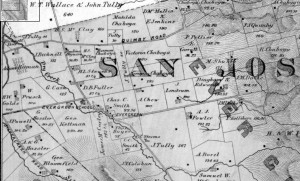 Alfred Chew would come to Evergreen and begin farming in 1860 3 miles outside of Evergreen.  Alfred Chew would take his year's profits and purchase a portion of attorney William Matthew's property near downtown Evergreen in 1861, which was granted to him in exchange for legal services from the Chaboya vs. Squatters battle in years prior.  This 1896 map shows no road where Chew Lane and now Aborn Road exists.  Evergreen literally grew up with and around the Chew Family homestead.  This is a black and white close up of the 1876 Thompson and West Altas with Chew's property under "SAN", before the road in his name was created.  He would've moved in right next door to Charles Smith and Genrio Chaboya as one of the first residents of Evergreen.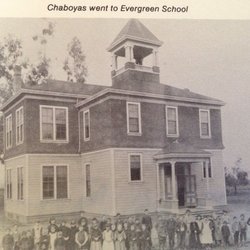 After his winfall year farming 200 acres 3 miles outside of Evergreen in 1859, Chew would buy 100 acres of his own and build his home in downtown Evergreen.  He would raise 7 children with wife Margaret, Mamie.  They would've gone to the Evergreen Schoolhouse.  Mr. Alfred Chew would return to civil service, elected to the Board of County Supervisors in 1873.  He would serve on the Board from 1874-1878.  Chew would also serve in Santa Clara County's Assessor's Office into the early 1900's.  Both his wife, Mamie, and his daughter, Emily Ann or Emma, would teach at the Evergreen Schoolhouse down the street from his downtown Evergreen house.  Emma would also marry into the well-known, well liked Hostetter Family, who found their way to Santa Clara County with the Evergreen Farnsworth family guardians.  Over the 50 years Alfred lived in Evergreen, Chew's neighbors would sell their large downtown Evergreen farms away to make room for subdivision housing.  Evergreen would continue to grow in population.  Chew's farm had a very different fate.
Mr. Alfred Chew's Obituary would read "PROMINENT SAN JOSE ORCHARDIST IS DEAD Alfred Chew," County Treasury Watchdog Passes Away SAN JOSE, Calif.  Jan. 2. — Alfred Chew, for 33 years the "watchdog of the county treasury" and one of the most prominent orchardists of the county, died late last evening; at his home near Evergreen at the age of 75 years. For nearly half a century he had served the community as supervisor and deputy assessor or deputy tax collector.  He is survived by seven children… "

The Chew children would continue to live in and work on the Evergreen farm on Chew Lane.  Chew's reputation and leadership in the early days of Evergreen was the reason its main artery was name after him over a hundred years ago.  You can see it crossing the "A" in this 1902 map along the Hart Line.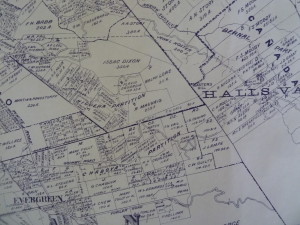 As you can see from the 1911 map to the left, this was the time Evergreen Road and Chew Lane became one Aborn Road.  John Aborn, another revered Evergreen character, was a local pioneer figure from before Alfred Chew's time in Evergreen who fought for farmers with the Chaboya Family, making the town of Evergreen possible.  I wonder how his family must've felt about the renaming.  Regardless of how Alfred Chew would've felt about the change of the street's name, he would never have witnessed the change of address.  The Chew Estate would stay in the family for a short while longer, all married and established, and the Chew family would move out of Evergreen in the 1910's with Mamie's passing.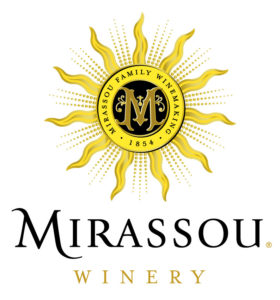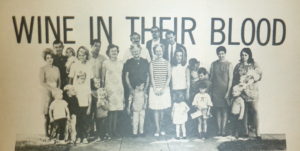 Shortly after the Chews' death and Aborn Road's creation, the original 100 acres purchased from William Matthews in 1861 would be sold to another famed Evergreen family, the Mirassous.  Henriette Pellier would marry Mr. Mirassou, see her family carry on the tradition of winemaking and move the winery operations from Pellier Ranch off Quimby and Chaboya Road in 1911 to the Chew property off of Chew Lane.  There, the Mirassou family would have its famed vineyards and historic tasting room on Aborn Road for almost 100 years.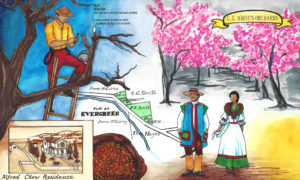 Through this artwork we're trying to explain the transition from Native wilderness, to Mexican cow pastures to American homesteads.  The artwork that features Mr. Alfred Chew's residence from 1876, though certainly built in the 1860's, is a piece that tries to do just that.  Farmers moving into Evergreen would breathe new life into the ever green hills.  Leaders like Chew would shape a developing area and Evergreen's identity to the rest of the Country.  It's important to know who Chew was in Evergreen's narrative.