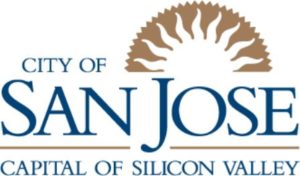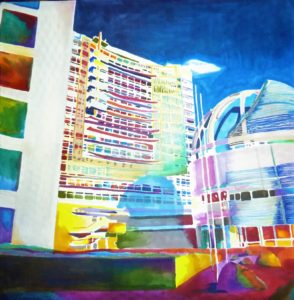 Needless to say, I'm letting my nerd flag fly with every blog post for the Evergreen Mural Walk.  If you think I enjoy Evergreen, consider how much I love Public Arts.  As a San Jose Native and based Artist, how could anything be more personal or provocative to me as San Jose's Public Arts' Scene.  I'm going to narrow my review to the Visual Arts' for the most part because it's my expertise and experience.  I still don't get out often enough to be a critic of our performing arts or festivals, which San Jose has a ton of!  Well done, us.  There is constantly something happening in San Jose and a holistic approach to the public spaces being highly considered makes those more engaging.  City Hall is somewhere I find inspiration and a lot of support.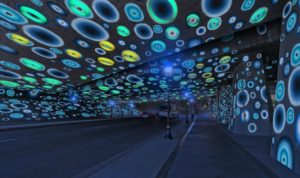 Since coming up with this crazy Evergreen idea a year ago, I've been to every City of San Jose Arts Commission and Public Art meeting open to the public.  San Jose's art portfolio is vast with a wide variety of investments and installations.  Overall beautiful and well considered, I cannot help but to notice lots of funding going to out of state artists for their unique concepts.  There's been two pieces that people hate in Downtown.  The Arts Commission funds programs like the Ballet, Symphony and other performing Arts.  Illuminating Downtown appears to be a success with more projects on the way, a series of light Public Arts Installations to Downtown's Underpasses.  Brand new pieces have been installed on Lincoln Avenue in Willow Glen.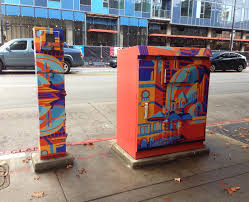 The Art Box program finds itself empowering charming pieces in already charming, walking Communities.  To engage this program, you must have an artistically or culturally valid concept and private sponsorship.  Its this programs' intent to create opportunities for professional artists, though the stipend is low.  I think this is why there are some done to a lesser quality than others.  It takes a larger commitment of time from the artist than the program pays.  This program adds to San Jose's rich culture by creating exposure for artists.  The location is chosen by the Arts Commissioner in charge and the private donor, so the pay off is in the location.  Because of these elements, the Art Boxes have not been employed in Evergreen, or other graffiti ravaged Communities, though this Public Arts approach could help the safety and walkability of Evergreen.  You'll find Art Boxes in Willow Glen, Downtown, and the Alameda.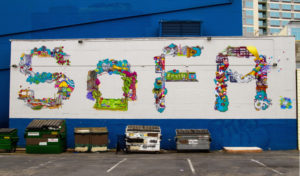 There is such a lack of color in San Jose, it's known as Tan Jose to those in the Arts Community.  People lament the boredom of San Jose's Airport, knowing the Cultural hotspot that waits for them outside.  San Jose State University trains brilliant, competent artists, but we outsource the Artistic Identity of San Jose to others.  Those like Erin Salazar, with the Exhibition District, finds private funding and public walls to empower San Jose's Arts Community to have a hand in its Individuality.  Sadly, the Exhibition District focuses Downtown.  Not in Evergreen.  Cherri Lakey, too, with Two Fish Designs, brings Artists Opportunities forth in her successful galleries and SOFA events.  SOFA, however, still isn't Evergreen.    Love seeing strong women creating business opportunities and cohesion for the Arts in San Jose.  That connectivity to opportunities and empowering artists is crucial to San Jose's Artistic Identity.
What has Public Art done for Evergreen lately?  Does Evergreen have Public Art?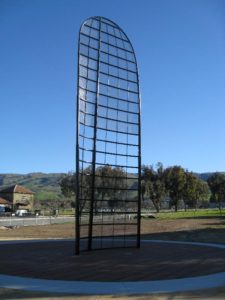 It's gotta be asked because it's not widely known or appreciated.  It's often teased for its curious shape.  This first of these is a contribute to John J. Montgomery, the pioneer aviator who lost his life flying in our Evergreen hills.  This is a recreation of a wing from his Evergreen glider.  This stands at the park on the corner of Yerba Buena Road and San Felipe Road, within a mile of where the glider crashed on the Ramonda Ranch.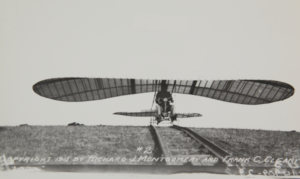 The importance of this shape is it is the modern shape of wing.  John Montgomery flew before the Wrights Brothers and had the guidance systems in mind in advance.  The East Coast bias goes back before National Sports leagues.  Publication and their Printers were in high volume along the East Coast while the West Coast enjoyed the last standing Old West and settling.  Circulation to local outlets would've been easy, but getting publications of Montgomery's early flights back East were a feet.  The Wrights Brothers have the public's opinion on Flight's First, however it was Montgomery and he simply did it better than others until his unfortunate landing.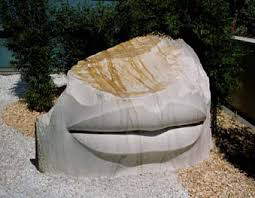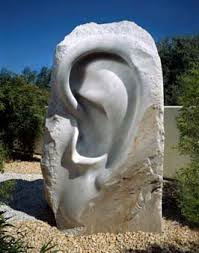 Have you heard of these delights to the left and right?  Evergreen Library has beautiful pieces of Public Art, but I had to hear about it in a Public Art Meeting.  That would lead me to believe perhaps you've not seen Larry Kirkland's "Discoveries" either.  The Washington DC based artist here uses the senses and scale to engage his audience in an association with nature.  Mr. Kirkland's work can be seen in airports around the world, and here at the remodeled Evergreen Library off Aborn Road.  Though little known, it think this is a wonderful addition to San Jose's and Evergreen's Artistic Identity.  I think I'll take a selfie with the giant ear.  I love the honest qualities to the rock with the smooth contours of the skin.  It's a powerful textural contrast that leads us to opinions of our relationship with nature.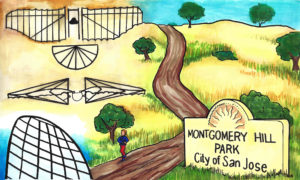 Enough La-Ti-Da.  We're done.  That's it in San Jose's District 8.  The largest Rancho in Santa Clara County has 2 pieces of Public Art.  We've recognized and tried to bring relevance to the Montgomery piece in our proposed artwork.  There's splendorous fountains and decorations in new home and retail areas, but we have an artwork portfolio of two and no non-profits receiving operational grants in Evergreen, though I'm sure we have some budding ballerinas and musicians from Evergreen in our Arts Organizations.  Andrew Bales of the SV Symphony discusses the 90% decrease in philanthropy over the last decade, which the Arts has endured.  There are funds set away from every new development that goes towards things like Public Art.  This too gets trimmed away by other needed services like homeless housing.  What's odd to me is that Evergreen is continuously development the rolling hillside but the 1% for the Arts doesn't come back here in proportion.  If Corporate Giving and governing agencies cannot fund the Arts, it's going to go away unless someone gets creative.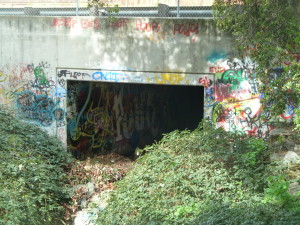 Evergreen sees epidemic graffiti in public spaces and on historic grounds.  Graffiti is a broken window to the factory that is the Evergreen Community.  I can't help but to think Public Art and bringing charm and romanticism to Evergreen could improve safety and tensions.
Tensions will naturally occur where you have a socio-economic contrast like ours and residents don't feel like they have any options to improve their own situations.  I maintain this Community is colorful, not unsafe.  Those committing this vandalism are our target volunteer from our high school crowd.  Their ownership and individuality brought to the project bring it success and authenticity.  This was a wildly walkable Community when I was a little girl on my red bike.  Before that, farmers freely roamed through the shortest path through their neighbors' orchards on horseback.  This project seeks to find that walkability and boost in tourism in Evergreen's third piece to the Public Art Portfolio.