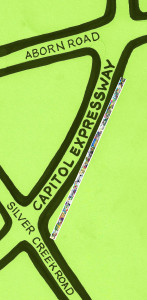 Aborn Road is one of our main arteries in and out of the Evergreen neighborhood – running east to west, intersecting with Ruby and Murillo Avenues, White and San Felipe Roads as well as Capitol Expressway.  It's very close to the project site.  Just a stone's throw away from our murals.
In the research and design phase of this project, I looked into all the street names around Evergreen.  It's a little lazy, but a decent starting place if there was an awesome story to go with it.  The boundaries are consistent through the cartographical research.
It would be safe to assume Aborn was someone important, right?  I combed physical and electronic records for signs of John Aborn.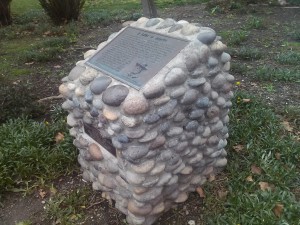 Records of John Aborn's journey to the United States date back to 1833 with some other notable European San Jose Pioneers from England by sea.  He was also sited in the case Anotnio Chaboya brought to suit naming squatters and evicting them.  His daughter Mattie married John M. Murphy, son of the Pioneer, and then notes for John Aborn dry up.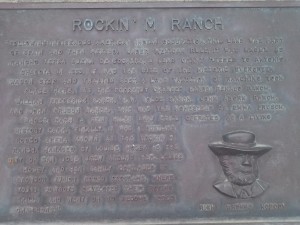 There's a monument placed at the site of his ranch, where community rodeos were once held, but nothing further on this John Aborn.  I don't know if this portrait is supposed to be him.  His ranch would become William Prusch's, whose daughter, Emma, would donate and become the namesake of the farmstyle park in East San Jose.  William would eventually turn it over to H. W. Golds for another farm.  I looked for family members of Aborn's ranch manager, but alas, no leads.  The story Dead Ends, but he must've been a well-liked man for people to have remembered him in such a large way.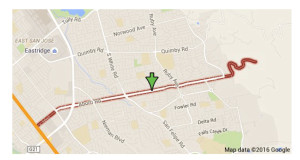 Most notably, Aborn Road had been home to Mirassou Vineyards, winery and tasting room on Aborn Road for many years.  The vineyard property is now new home developments.  Aborn begins in luscious hills and rural ranches.  Aborn ends at highway 101.  Today, it is home to shopping centers, the Aborn Village Square, hundreds of homes (which include some historic subdivisions), and the Evergreen Library Branch.  It's a major Gateway through Evergreen.  I drive it nearly every day.  As a kid, I would cross it at various points using bridges over creeks and stop signs.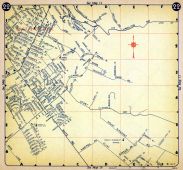 This Evergreen roadway wasn't always called Aborn Road, though.  San Felipe Road kept its name but not its route along Dry Creek, later Thompson Creek.  This made it difficult to place historical sites.  White Road would remain true to its course and its name throughout time.  Aborn Road has been a consistent gateway into downtown Evergreen.  I reviewed over 20 maps preparing for this project.  The same road shows in some form or another in all the resources, but has had different names through the years.  Until I looked at them in chronological order, I thought I was going crazy.  The maps weren't lining up for me.  It wasn't making any sense at.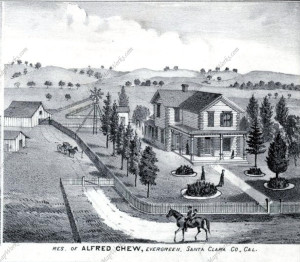 The Mirassou wine family would purchase 100 acres of real estate from farmer Alfred Chew in 1911.  Before Aborn Road was called Aborn, it was Chew Lane.
Alfred Chew, Sr., was born in 1834 in Ohio, making his way out to California in 1859.  Alfred would raise seven kids on his Evergreen Farm, one daughter becoming an Evergreen teacher.  The Chew Family would reside in Evergreen for over 50 years.  In 1860, Alfred Chew would buy his farm from William Matthews, an attorney of the Chaboyas.  Alfred Chew would be elected to the County Board of Supervisors in 1873 and serve until 1878.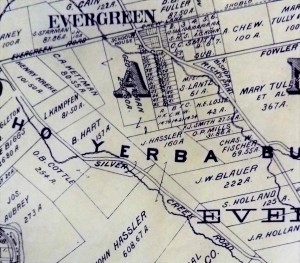 Honorable Judge Kettmann did the paperwork for the Chew family in the sale of their historic property, shown above, before his judgeship.  The Kettmann's, too, would live off Chew Lane for several generations as well.  The Hassler property would reach Chew Lane at one point.  The Tullys would own property here, east towards King Road and down White Road.
Before Alfred Chew moved into the Evergreen neighborhood, the path was simply known as Evergreen Road.  This roadway was the main road in and out of Evergreen for over 150 years.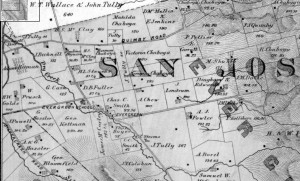 The first Evergreen School house would sit at the corner of San Felipe Road and Evergreen Road, where there's now a gas station and shopping center.  The series of walking bridges connecting the communities separated by lagunitas or creekbeds, were the connective tissue of Evergreen.  The Saloon was at this corner, down the way a little.  The general store was here.  The postmaster was here at this intersection.  The new school house was relocated on San Felipe Road.  This quaint downtown at Evergreen Road would've been where neighbors ran into each other.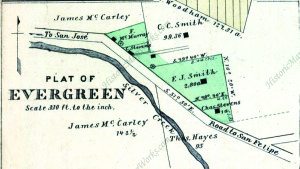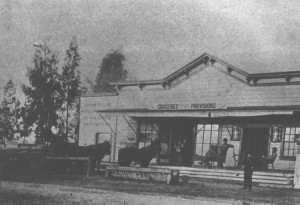 Evergreen Road was once a driveway that  split the Smith Residences down the middle at San Felipe and White Roads.  This was the original Plat of Evergreen to the right.  Charles C. Smith would open the General Store.  The Smith House still stands today on San Felipe Road.   I'd love to see it turned into a museum or venue of some sort.  Nearby, the Hinman Garage is the location of the Smith blacksmith shop.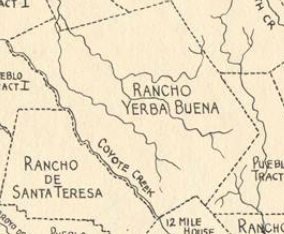 Before that, it would simply be grazing land for Chaboya cattle.  This was a portion of Rancho Yerba Buena that ownership was contested.  Popular Evergreen Pioneers were involved in the suit, so I don't want to go too far into it.  In the end, the squatters won.  The Chaboyas exhausted funds evicting and fighting for their land claims.  The squatters won the right to buy the land at a fair rate.  The Chaboyas maintained ownership of what they had left, but had to grant portions away to settle legal fees.  Before that, it would be Ohlone wildnerness.
Although the trail for John Aborn fell cold, the story the street tells is entirely awesome.  Evergreen is a place that transitions with the times.  It's an ever changing identity.