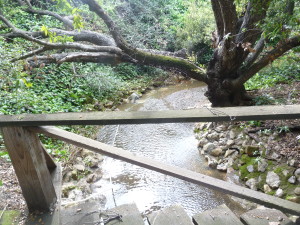 Throughout Evergreen's over 200 year History, we hear described a network of creeks running though town.  As a kid, I would form a personal relationship poking around for toad and bull frogs, swinging from tires and racing over bridges with my friends.  Little did I know, these creek beds are a contributing factor to the name Evergreen.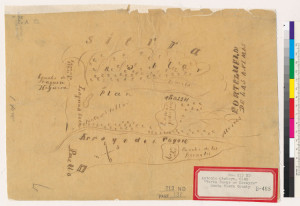 The Spanish and Mexican powers in California would call them the lagunitas.  The creeks ran off into the large laguna or lake.  Evergreen was rather marshy.  This Rancho Yerba Buena Chaboya Diseno notes several creeks running through the Evergreen hills.  This map especially notes Dry Creek, Thomspon Creek and Coyote Creek, the western border of Rancho Yerba Buena.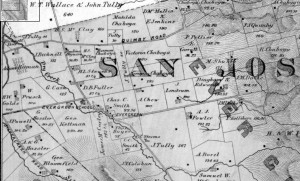 What the Mexican Chaboya land grant from 1833 doesn't show contrary to so many other maps and disenos of this neighborhood is that San Felipe Road after the intersection with Evergreen Lane now Aborn Road run parallel to a large creek.  Evergreen was built around its creeks.  The town of Evergreen would built up around its creeks and learn to rely on them.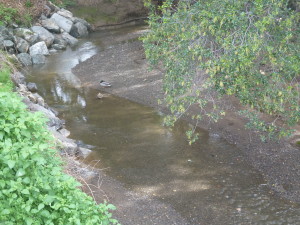 This creek to the left was once called Dry Creek.  Dedicated in 1974 as Thompson Creek, Dry Creek ran directly through the town of Evergreen founded in 1866.  It was amazing to hear that these bridges I crossed on my bike as a child would have been crossed for some 100 years before.  These bridges connected distance farmers and ranchers to the center of Evergreen.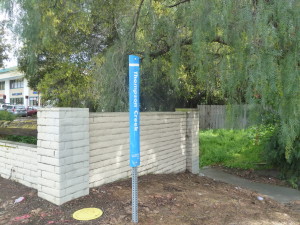 The original path of San Felipe Road 150 years ago was parallel to this creek almost directly after Evergreen Lane.  Keaton Loop, which sneaks behind Wells Fargo on San Felipe was the original route, hugging the creek bed.  This route feels old timey as all get out.  The original schoolhouse would be located in the shopping center on the other side of this creek crossing.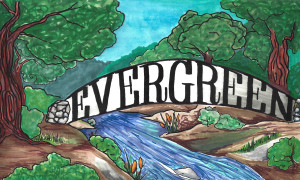 Most popular small crossings of Thompson Creek are between Cadwallader Avenue and Keaton Loop, to the south of Evergreen Lane/Aborn Road, and Scottsdale Drive and Pettigrew Drive, to the north of Evergreen Lane/Aborn Road.  These are both super close to White Road and San Felipe Road.  Students from 1860 would've crossed these bridges to get to class.  Thompson creek dumps into Cunningham after traveling parallel with Capitol Expressway a little.  It cuts diagonal after Quimby Road toward and past Evergreen Library.  Thompson Creek will loosely follow San Felipe traveling south until Yerba Buena Road.  There, the creek makes a left hand turn and hugs the Evergreen Valley College campus to its south.  Thompson Creek water ways have inspired this murals.
Dry Creek is what follows straight along San Felipe Road.  This was appropriately named as it run dry most times of the year.  Water from Anderson Reservoir would be pumped in to supply farmers with irrigation.  This would create family feuds over water right between neighbors.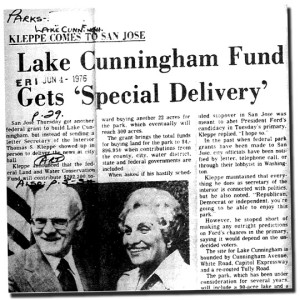 Back in the day, it was the Laguna Secrayre.  Lake Cunningham, before its new name and the creation of the park, was Silver Lake.  Velma Million, park creator, named the park after the gentleman who owned the land last.  Frank Cunningham purchased the land from Evergreen pioneer, John Tully.  City of San Jose had to seize the land in the early 1900's for flood control.  As late as 1969, Silver Lake flooded its banks into neighboring low lying houses.  Today, this popular hiking and picnic destination serves a second purpose equalizing water levels.  Velma created the park in 1973, with a vision to create a "Vasona of the East" in a rapidly developing San Jose.  She created a positive from a negative.  Velma herself is truly inspirational to me, so we'll save her story for another blog.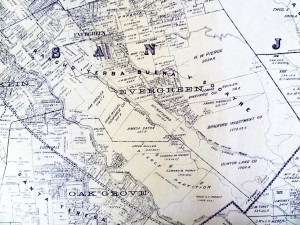 Silver Creek along the western side of old Evergreen.  It no longer exists today.  There are some traces of the Silver Creek around today, beyond the naming of the school and surrounding neighborhood.  Silver Creek was built directly on top of for Highway 101 and Capitol Expressway.  The ruins of Silver Creek can be found at the on ramp of Yerba Buena Road and US 101 North.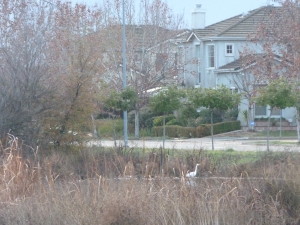 Silver Creek Road closely followed Silver Creek while it was around, but modern day King Road, which it turns into, does not.  Portions of Silver Creek exist near Silver Creek Linear Park.  Portions of it exist near new development in the old Hassler property now known as the Ranch, as well as along the backside Silver Creek County Club.  To the right is one of those relics of Silver Creek.
Norwood Creek, for which a school is named, flows from Capitol Expressway to White Road, then haults to an office center and residential subdivision.  It does reemerge in high elevations.  It has several Water Facilities along Norwood Avenue diverting this natural flow.  At one time, it would've paralleled the entire length of Norwood Avenue.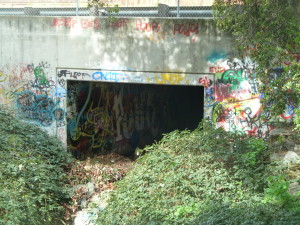 I suspect this what's left of the Fowler Creek which, like the road, was named after farmer Andrew Fowler.  You can find this water way tunnel off of San Felipe Road  connecting with Thompson Creek, if you know where to look.  I think it's actually quite stunning.  This creek would have split off San Felipe Road and followed Fowler Road east, but this area has been entirely developed.  On Google Earth, where Fowler Creek would've begun back in the day, there's a large water tank.  Farming also could've dried Fowler Creek up over time.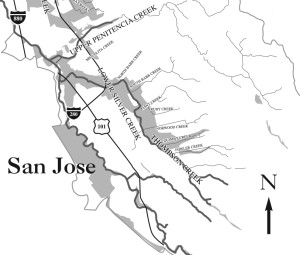 The creeks Evergreen all tie into a larger network the flow to either Calaveras Reservoir or Anderson Reservoir.  The Evergreen streams have been drying up for sometime, though.  Modern day Evergreen experiences golden hills in summer and autumn, but that was not always true.  Farming in the late 1800's and early 1900's found easy, dependable water sources close by.  These streams and creek would be diverted for orchards and crops.  Natural ponds would quench the thirst of cattle.  This and flood control measures lighten our hills in warmer months.  Drought doesn't help.  The hills are especially lush lately.  Their naturally green grasslands were irrigated by running streams since the Ohlone Indians discovered Evergreen.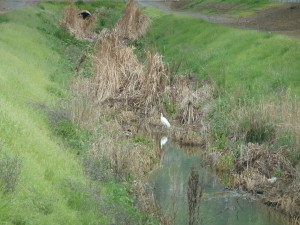 I went back to one of my favorite creek beds as a child, behind my old elementary school, Millbrook.  This is Quimby Creek, but as you can see and as I can hear late at night, the waterflow has a healthy wildlife.  The particular bridge connects Millbrook Drive with D'Amico Drive.  Quimby Creek connects to Thompson Creek with another quaint bridge from Scottsdale Drive to Aborn Ct.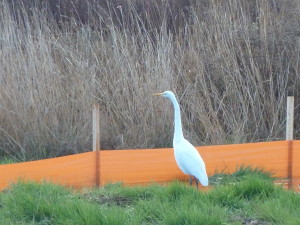 Egrets make a home in our healthy Evergreen waterways.  I used to see them all the time as a kid where Beschoff Motors is now.  They're frequently by Capitol Expressway.  I found this guy over by Linear Park.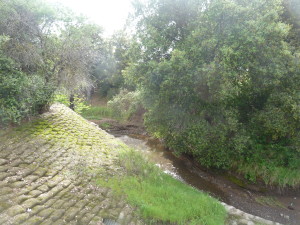 Sadly, many of the creeks and natural water flows have been built on top of, but should you be able to find them, you've found a little Evergreen History flowing in front of you.  Thompson Creek has a lovely trail, but it does feature tagging.  Consider tagging and graffiti also a part of Evergreen's identity.  It's just the fact.