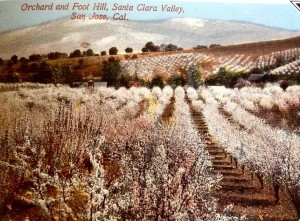 An overwhelming motif of Evergreen is our orchards.  You're going to see a lot of trees in rows portrayed throughout the Evergreen Mural Walk.
My parents would tell tales of moving in across Stevens Lanes from apricot orchards.  In creating the artwork for this project, everyone asked why there weren't more apricots and prunes.  This theme is plain as day to those of us who remember fruit stands and vineyards.  Our newer residents may not understanding what was here before we moved in.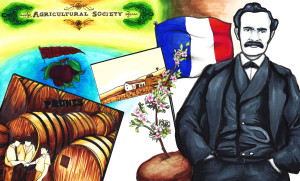 Our Evergreen entrepreneur and agriculturalist, Luis Pellier, hatched a plan in 1847 while gold panning to bring the seeds, plants and clippings from his native France and forever change the fruit industry of California.  The cost of a single apple was $1.50 at the time, which in 1849 dollars was cost prohibitive.  Without our guy, there wouldn't be the awesome economy in San Jose during the 1800's.  He's really the father of California's wine and fruit industries.  The Pellier family still lives in Evergreen today.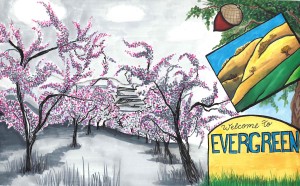 Gunless lawman and California statesman, Charles White, came to America in 1833, but his son was a popular orchardist and businessman.  These are Charles E. White's orchards to the right.
John Tully would own and operate many orchards throughout Evergreen, as would H.L. Stevens.  From the 1850's forward, Evergreen would blossom with orchards.

The East Side Fruit Growers Association opened in 1893 off Tully Road and McLaughlin Road, serving as a trade association for local farmers across Evergreen and East San Jose.  They would join a larger sales organization in 1899.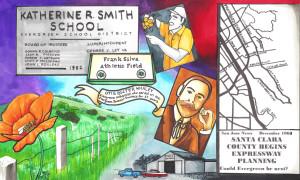 Otis B. Whaley would also make our list of well-known, well-liked orchardists of Evergreen.  Also having served on the Evergreen Elementary School Board of Trustees for 27 years, he would cultivate his orchards in Evergreen from 1911 until he passed in 1947.  The third school opened in the Evergreen School District would be named in his honor in 1963.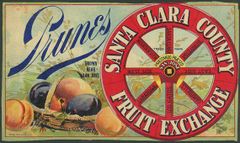 When railroads off Monterey Road became popularized in shipping fruit back east, the fruit industry would shift focus downtown towards the rails.  The East Side association, like others in the Santa Clara Valley, would be acquired by the Santa Clara County Fruit Exchange, a dried fruit co-op opened in 1892, once known as the California Prune and Apricot Growers Association.  The plant was located across the street from Del Monte's Canning Plant.  California Prune and Apricot would become Sunsweet and can here until 1915.  The Fruit Exchange wouldn't disband until 1916 after the plant burnt down while leased.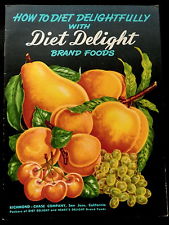 Popular companies like Sunsweet, Del Monte, Sun Garden and Valley of Hearts Delight, Richmond-Chase, would ship Evergreen fruit, dried and canned, around the world.  Railroads and later Reid-Hillview would play major roles in exporting Evergreen's produce.  Santa Clara County as a whole was known as the Valley of Heart's Delight, but Evergreen owns the copyright as its owners still live in town.  The town and community of Evergreen would identify as an agricultural hotspot well into the 1950's.

I have a personal relationship with Evergreen orchards picking fruit and pumpkins from the Cortese fruit stand and orchards.  My mother and I made a habit of getting cherries there that never made it home, being snacked on between stoplights.  Vincent Cortese would immigrate from Sicily in 1917, and work in the orchards.  Vincent would eventually marry an Italian-American lady, purchase his own farm in Evergreen and raise his family with an orchardist tradition and one of civil leadership.  The orchards in Evergreen would give way to Evergreen Valley College, but John Cortese, also a lawyer, maintains orchards today.  This is a tradition that still bears fruit today.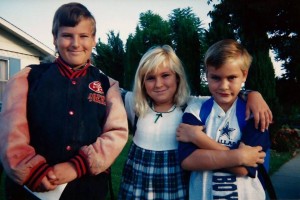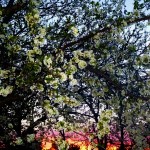 My continued affections for orchards existed in the various fruit trees in my own backyard as a kid.  A love of blossoms and blooms enchanted my childhood.  Pies and jams of all kinds came out of our Evergreen kitchen.  Apple sauce is a tradition.  Our backyard gave us peaches in the Spring, Plums in the Summer and Apples all Fall and Winter long.  Lemons, and therefore lemonade, are in abundance at my house.  To say I'm drawing from experience would be an understatement.
Orchards have always been in my life as a native of Evergreen.  Below are pieces that have and haven't made the cut, but all include our redundant theme of orchards.