Nirum's an awesome name, as is Cadwallader.  For the purposes of my research, I much prefer it to Smith, Stevens, Jones or John.  However, when looking into Mr. Cadwallader, he occurs all over the map.  The fabulous women of History San Jose pulled it all together for me.  I'm always looking for a portrait on my Evergreen individuals.  This one happens to be in print, not a photograph.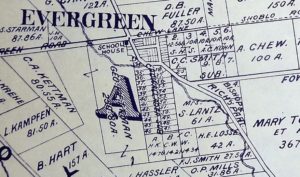 Mr. Nirum Cadwallader, for whom the school is named, as previously discussed donated the lands to both the Evergreen Schoolhouse at the corner of San Felipe and Evergreen Roads in 1860 and to the Women's Relief Corps in 1887, located on Cadwallader Avenue.  The WRC is probably one of these subdivision plots.  By my estimation of the 5 acres donated, I think it's probably 34 or 57.  Those are the only ones bigger enough and "on" Cadwallader.  At the time, Cadwallader Avenue started at San Felipe Road.  Now, there are only foot bridges connecting Cadwallader to Keaton Loop, formerly San Felipe Road.  We'll discuss this in further detail later.  No doubt, Mr. Cadwallader helped shape Evergreen as we know it.

The earliest records of Mr. Nirum Cadwallader appear from Birchville, California, because that's where he initially struck it rich.  Originally from Ohio, Nirum Cadwallader would be apart of the Gold Rush of 1849.  In an illustrated version of Popular Science in 1866 would bring attention to Mr. Cadwallader's patent on a technique of compressing air in dynamic to create larger blasts.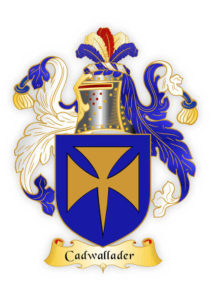 Nirum Cadwallader (1833-1890) was the great grandson of Ohio's Seneca County's Hopewell Township's first settler, Nathan Cadwallader.  Nirum's father Samuel Cadwallader and wife Mary would raise 7 children, of which Nirum was the eldest.  He would've been sixteen as he would've heard the news of gold from California.  As a young man, Cadwallader would work his way up the chain at the Milton Mining Company, surely getting the necessary experience that took him to his future heights.  The Cadwallader family name is quite popular there in Ohio and along the east coast, also spelt Cadwalader.  It and the family originate from Wales, being a descriptive term for the Welsh people.   The family's lineage can be traced back to a Welsh King.  Chances are the Cadwalladers were well off in Ohio.  There are a long line of Cadwallader inventors preceding and succeeding him.  The first Cadwalladers would leave England in 1640, arriving in Virginia, and slowly migrating west from there.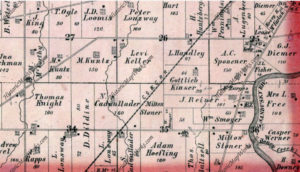 As a young man, Cadwallader would work his way up the chain at the Milton Mining Company, surely getting the experience that took him to his future heights. However established, Nirum Cadwallader would break out from Milton and arrive in California in 1855, at the age of 22.  Nirum would become a prolific businessman, acquiring stocks and equity in numerous mining, telephone, water and utility companies in Nevada County, California.  He was a very rich and well-respected man quickly after coming to California.  Mr. Cadwallader would be married twice, but his first wife passed away while he still lived in Birchville. I couldn't find any records of the first marriage or the children they might have had.  After returning home, no doubt to grieve, Nirum would marry the much younger Emma J. Hart (1847-1930) also from Ohio, having 3 children together.  Nirum Cadwallader would own 160 acres in Ohio as shown to the left in this 1874 Atlas.  Samuel, his father, would live with Nirum for part of the year, probably during Ohio's colder months.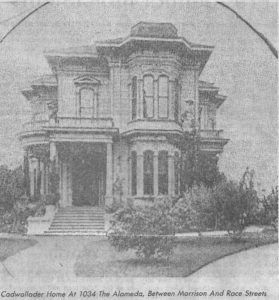 If you're mining for gold in Nevada County, California, you would need quicksilver to obtain pure gold and remove other elements from the compound.  If you're a forward thinking man with mining interests and better mining techniques like Mr. Cadwallader, you might look for some quicksilver mines of your own.  This is what probably brought Mr. and Mrs. Cadwallader to San Jose for good in 1881.  Although it is unclear whether or not he had any part of the Silver Creek Mines before their flooding and abandonment, Nirum Cadwallader would purchase land in the heart of Evergreen in the 1860's, though they never lived there.  This was a second property to vacation from their downtown home, which was located off of the Alameda, in the heart of Downtown San Jose.  It's been torn down.  When Cadwallader donated the land because he hadn't built on it, he made a huge impact on the Community of Evergreen.  Mr. Nirum Cadwallader has been rumored to be a very generous man throughout his life.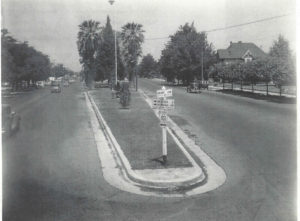 In 1888, Birchville's mining industry would dry up as the mines were picked clean.  The population of Nevada County quickly shrank.  Forward thinking Mr. Cadwallader had already set up shop elsewhere.  His patent made him rich, as did his business ownings.  Mr. Cadwallader died in 1890, a year after the WRC opened.  Mrs. Emma Cadwallade, the widow, would deed a park in his honor.  The small park still exists between 1st and 2nd Streets at Keyes Street.  It is the cutest wedge of land with palm trees.  This crossroads would dictate the direction you were heading before highways were built.  Monterey Road was the closest thing to a highway, also being a portion of the El Camino Real.  First Street heading North lead you Santa Clara and then the Alameda which turns to the El Camino Real to San Francisco.  Heading down Second Street took you towards Oakland via Oakland Road from Thirteenth Street.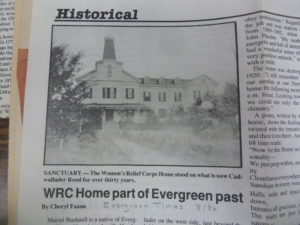 In donating the property to the Women's Relief Corps in December 1887, constructed in 1889,  a ceremony was held to commemorate the occasion in Evergreen on April 6, 1889.  The WRC took a year and a half to build on Cadwallader Avenue.  A mile long precession and banquet hosted by "ladies of Evergreen", notable ladies like Mrs. E. J. Smith, Mrs. J. J. Jones, Miss Fowler, and Miss McClay.   The occasion was celebrated with Mr. and Mrs. W. L. Edwards, Mr. and Mrs. Samuel Cunningham, Mr. and Mrs. Lantz (neighbors nearby the WRC), Miss Minnie Keliher and the Chew Family.  It was said that Mr. Cadwallader held the event to show off his beautiful wife from Ohio.  She later remarried Mr. Taylor in 1910, twenty years later.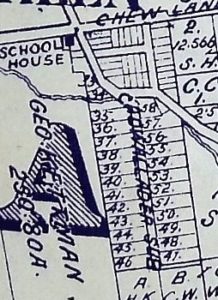 Mr. Nirum Cadwallader's Evergreen property turned into one of the first densely built home developments in the downtown of Evergreen.  It was all located around Cadwallader Avenue, named in his honor.  Close by Cadwallader Subdivision were the Smith properties and General Store, Andy Kettmann's Saloon and the Schoolhouse.  When the town grew, it did so because people enjoyed having neighbors and countryside in the places like the Cadwallader Subdivision shown to the right.  If you worked these farms nearby, you probably couldn't afford lots of acres of your own.  Plus, you were too busy to ever profit off of the land or tend to it yourself.  Evergreen's farming industry took the whole village to harvest.  Evergreen School Sessions would sync with the harvest season, because the kids would be home working as well.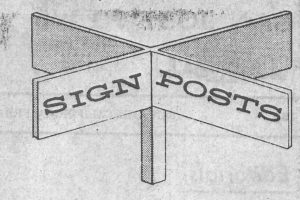 Patricia Loomis discussed the WRC's opening with first person resources in her article "Cadwallader Ave. Has Had Problems" in her 'Sign Posts' series, revisiting historic events in San Jose's history for the San Jose News in October 17, 1975.  What I hadn't realized before I found Patricia Loomis's Sign Post was that Cadwallader Avenue went through to San Felipe.  The road bridge would be washed out in 1893 after heavy rains.  At the time, Cadwallader crossed Thompson Creek, formerly known as Dry Creek because it ran dry in summer months.  The wash out surely as something to do with the redirecting of San Felipe Road.  It's never been replaced.