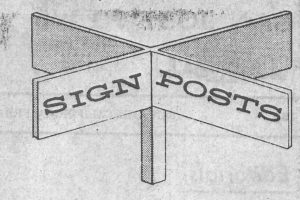 Pat Loomis once wrote about Cadwallader Avenue's driving bridge over Thompson Creek that had been washed away in a flood in January 1893 in her series of Sign Posts published in the San Jose News Newspaper in the 1970's.  Today, we all remember the walking paths connecting these neighborhoods.  We rode our bikes over wooden planks and metal rails with lush creek beds beneath us as children.  I went poking around in the old Dry Creek looking for remnants of the Cadwallader Avenue bridge because I'd been there recently researching San Felipe Road with Judge Jerry Kettmann.  Maybe he assumed I knew about the bridge, but I couldn't envision a bridge in this "S" curved portion of Dry Creek.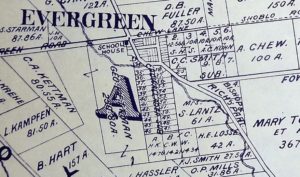 The intersection here at Cadwallader Avenue and San Felipe Road is really ground zero for Evergreen.  This was downtown Evergreen.  The first residents' homes still stand near ground zero.  Keaton Loop, cuddled up next to Thompson Creek, was once part of San Felipe Road. Cadwallader Avenue, however, once met San Felipe Road before 1893.  Here, in the map to the right, you can see the "C" of Cadwallader on top of San Felipe Road as it crosses Dry Creek, known as Thompson Creek today.
Here, the Women's Relief Corps, Evergreen School house and Evergreen's first dense home development grew off Cadwallader Aveunue.  Mr. Cadwallader is fascinating as well.  Though he never would call Evergreen home, he was certainly generous towards the Community of Evergreen.  Cadwallader Avenue's lost bridge was a new revelation along the research.  It's neat now when I learn brand new things about Evergreen.  This Cadwallader Community seems so secreted away when it used to be at the heart of everything.  It's certainly the second smallest parcels on the map above, a precursor to what Evergreen would eventually become.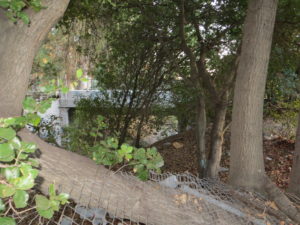 Here, I found deer frolicking.  I found sun ripened wild berries.  I found really old trees.  I found the end of Fowler Creek here now under San Felipe Road and graffiti.  There is a foot bridge now.  This new bridge is the straightest line down the Avenue itself.  Today's foot crossing is certainly very permanent and wide, but a direct line down which didn't feel true to my materials.  I wouldn't be too sure that's all it was or created from what was left of the old crossing.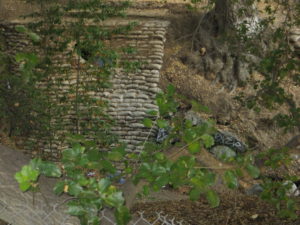 These sand bags would have been from any number of floods through the 1900's.  Sadly, I wouldn't expect sandbags or burlap to stand up to 120 years of moisture, deterioration, rainfall and overflow.  I could be wrong, though.  These would've had to be treated with some sort of plastic to have survived this long.   These bags protect the creek's fragile lining at this pipe's opening.  Over saturation would result in things beginning to slip into the creek, like the old bridge did.  This area was prone to flooding with a huge events as recent as 1969.  I do however see lots of rock, thanks to all the unsightly graffiti highlighting them.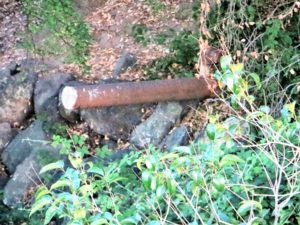 This large, metal pole is so random, and literally in the middle of the way creeks crossing.  Its placement is so odd that this must be evidence of some sort.  But what?  Also, observe all the rock around it.  That's weird too.  It caught my eye as we were taking cute photos of me gathering research.  I took these in street clothes on a return visit because I just couldn't stop thinking about this pole sticking out in the middle of the creek bed and that driving bridge.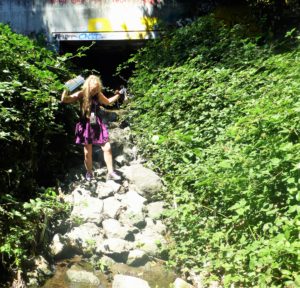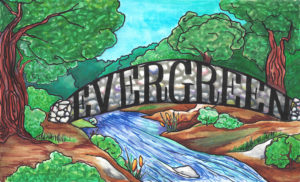 Come to think of it, I was jumping over rocks taking those pictures that day; so much so, I forwent the heels on rocks concept because it was unsafe.    It felt like Cottle's Cobble Stone all over again, starring me right in the face.  This pole would support a cobble stone bridge like the one my imagination conjured up.  Cadwallader Avenue began with a slight bend, when today's Cadwallader Avenue crossing is flush with the avenue's direction, as it reaches Keaton Loop.    What would convince me absolutely that this was the collapsed bridge?  Another support pole or more cobble stone would prove it to me.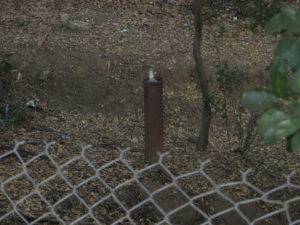 Done and done.
Sadly, the second pole I found also epitomizes the great need for the Evergreen Mural Walk.  The general public doesn't know the history of Evergreen and therefore doesn't respect the land.  It's so sad to see the vandalism and destruction on school campuses and private properly.  It's a dang shame, but okay.  Second pole, in the right place to support the San Felipe Road side of the bridge.  Check.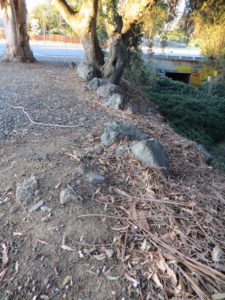 Then as I was leaving, I stopped to admire some giant hundreds year old oaks and enormous 150+ year old eucalyptus trees when I noticed this congregation of rocks.  This would've outlined San Felipe Road, now Keaton Loop, and protect horses and vehicles from running too close to the creeks' edge, which often flooded in the early days.  This cobble stone also though lines portions of San Felipe Road in from of L. C. Smith's historic residence and several Cadwallader Avenue properties in the same pattern.  This was a connected network of well traveled streets in the heart of Evergreen as one point.  This bridge's significance was bringing South Silver Creek to Downtown Evergreen and further connecting it with Norwood neighborhood and San Felipe Valley.  Nearby Fowler Road would've also been a popular turn for the interior of Evergreen, as would Quimby Road.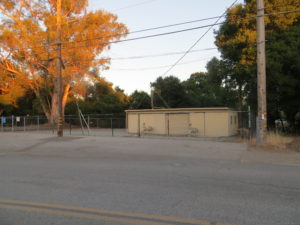 This cobble stone street lining would end where a pump station currently sits, accommodating the flows of the creeks so as not to flood Evergreen.  It is my belief this structure, not the current foot path from today's Cadwallader Avenue, takes advantage of the previous Cadwallader Avenue bridge's construction.  Or at least near the opening of the bridge on the southeast corner of the three way crossing with San Felipe Road.
Jerry Kettmann would explain to me that patrons of his uncle's bar on San Felipe Road would kiss under the bridge.  That makes a lot more sense if the bridge in within view and reach of the watering hole.  Down in the creek bed would've been a perfect place to hideaway and canoodle.
The sandbags I found are probably a precaution from the bridge having been swept away and ongoing flooding.  Cobble Stone is definitely a thing in Evergreen, then and now.  It's too heavy to really haul away and its so quaint.  Why bother?  I am so glad I took a second look at this crossing.  It was really starting to bother me.