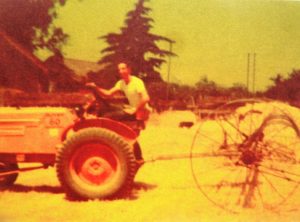 Along the research for this Evergreen project, I have met the most fantastic people.  If this guy needed a new best friend, I would be first in line.  I discussed with Honorable Judge Gerhard J. Kettmann (Jerry) the four generations of his family who blossomed in Evergreen and continue to call Evergreen home today.  He's the ultimate expert, having written a book and working on another about their family history.  What is extraordinary about the Kettmann family, making it a crucial piece of our mural series, is their witness to almost 150 years of Evergreen's development.  We will start by discussing how the Kettmann's came to America.  The United States is a country of immigrants.  We would all come here from somewhere else.  I think that's the first thing that bonds all of us Evergreen residents together.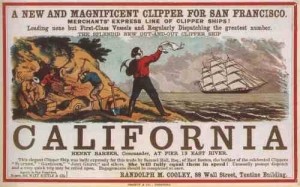 Johan Hermann Gerhard Kettmann (George) was the youngest of 8 siblings, born in 1827 in Kettenkamp, Germany.  His someday wife would be another German immigrant growing up only 8 miles away in Germany.  Gerhard Kettmann would leave his Native Country of Germany at the age of 22 and arrive in the Port of New Orleans in 1849.  Gerhard Kettmann would travel from Louisiana through Panama to come to Sutter County, California in 1853 and pan for gold.  With a little luck along the Yuba River and Feather River, George would come to purchase 160 acres of land in Sutter County.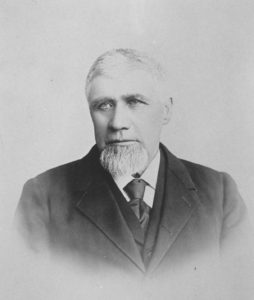 George Kettmann would marry Bernadina Torbrecke in Marysville, California, but there's a very cute folkloric story to this pairing.  Dina was first cousin of the Krehe Family, who would also come to live in Evergreen.  Henry and Bernard Krehe would invite their unmarried family members from Germany to come to the United States.  George Kettmann, being close friends with the Krehes, got to make his pick first and chose Bernadina.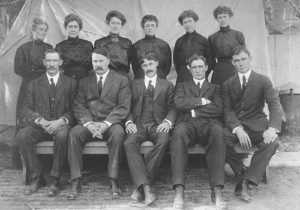 Whether that story was true or not, the German couple was married in Marysville, California in January of 1858.  George and Bernadina Kettmann would have eleven children.  The Kettmann clan would begin grow in Sutter County on the acreage along the Feather River, operating a general store known as "Five Mile House".  In addition to the store along the highway, George also would raise a herd of sheep and cattle on his 160 acres before moving the whole herd, family and all, to the Santa Clara County.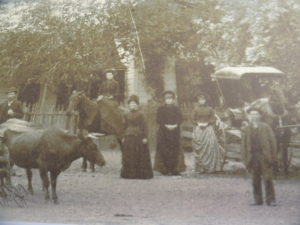 George Kettmann showed interest in Santa Clara County in the 1850's, after traveling their with a family member.  With the new variety of fruit being introduced to the agricultural field stimulated by Luis and Pierre Pellier, Kettmann made his move to Evergreen, then a tiny farming town.  George Kettmann would purchased a portion of Rancho Yerba Buena in 1867 near downtown Evergreen along Evergreen Road.  In fact, this first Evergreen parcel purchased by the Kettmanns belonged to the Chaboya Family's attorney, William Matthews, and had been paid land in order to settle those legal fees.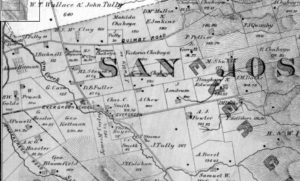 This initial parcel was a perfect 150 acre rectangle with the exception of the land that had been donated to the Evergreen Elementary School.  Evergreen's schoolhouse would be where the shopping center with the Valero and Wells Fargo is today.  The Evergreen Elementary School would be located here until 1892, when it moved a little down San Felipe Road.  Kettmann Road at Aborn Road is very near this school site, but it would've been on the other side of Thompson Creek, then Dry Creek.  Let it be known though that even the attorney didn't donate this land.  That carried over on the Title from the previous owner, Mr. Cadwallader.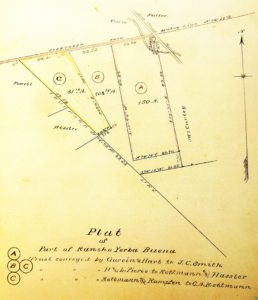 The Kettmann family didn't stop with that first purchase of 147.7 acres in downtown Evergreen.  Through an interesting purchase and exchange of land with fellow German immigrants, the Hassler family, the Kettmanns obtained another 103.10 acres in 1875.  The Hasslers and Kettmanns separated the properties along the Touchard Line, which falls on part of present day Neiman Boulevard.   Modern day Kettmann Road, where the Evergreen Library Branch is located on Aborn Road, runs between these two land purchases.  As Evergreen folklore would have it, this acquisition was the only purchase Antonio Chaboya's family actually profited off of after their debts were settled trying to evict their new neighbors.  In 1881, one of George Kettmann's sons would become an Evergreen landowner as well.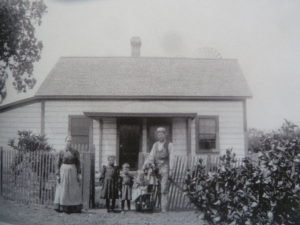 The eldest of eleven siblings, Clemens Andrew Kettmann was born on the Marysville ranch in 1858, less than a year after the couple wed.  Clemens would've made the journey with his father, George, the large sheep herd and fellow cowboys to Evergreen in 1868.  Clemens Kettmann was the only son to make the journey at 9 years old.  Young Clem only had sisters at that point.  The trek from Marysville with the herd must've taken over a month on horseback.  The rest of the family would come in 1869, after Dina gave birth to another sister.  From the Evergreen homestead, the clan would continue to raise livestock but also incorporate fruit, vegetables and grain into their business strategy.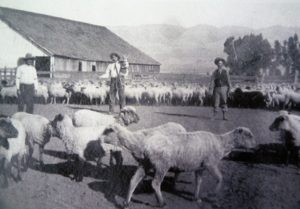 Homestead Laws would allow families to obtain a certain portion of land from the government after cultivating it for 5 years.  The Kettmann Family as a group diversified this ranching strategy in the heart of Evergreen and accentuated their grazing potential with homestead purchases along the back side of Mt. Hamilton Ranch.  These adjoining Mt. Hamilton homesteads weren't fantastic for farming, but it could and would be done with altered harvesting equipment.  The Kettman clan had so many acres in the Mt. Diablo Mountain Range, this area would become known as "Kettmann Range".  Lamb and sheep would be a rarity in Evergreen and San Jose at this time.  Cattle ranching would've been totally ordinary and generally what had been grazing throughout Evergreen for some 50 years beforehand.  The Kettmann clan held on to their German heritage by passing on this tradition.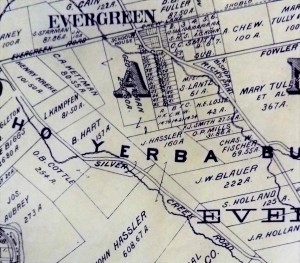 Clemens Kettmann would come to purchase the adjacent parcel to his father's in 1881, then 23 years old, from Louis Kampfen, another German farmer, who obtained his portion after the Hasslers from the previous Hassler/Kettmann deal.  This was 80.18 acres large, literally being the family's "80 acres".  Kettmann's friends and cousins, the Krehe Family, would also move in nearby.  There was quite the hotspot of German American culture in early Evergreen, with the Smith's and Stephens Families nearby.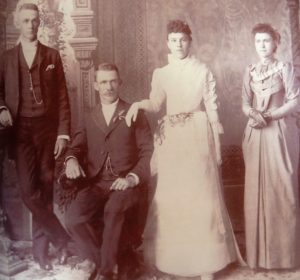 Clemens A. Kettmann would marry a German-American lady, Mary Vollmer, in 1890 at St. Joseph's Basilica in downtown San Jose.  Mary wore an apricot colored dress, how fitting.  Clem Kettmann and Mary Vollmer would have seven kids on their Evergreen homestead.  This labor force, along with his younger brothers at his father's homestead next door, would help Clem Kettmann cultivate the land.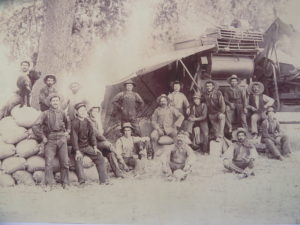 Having a big family in the 19th century was a big deal.  You needed help working on the farm.  In fact, having eleven children wouldn't be enough to operate ranches as large as these.  The Kettmanns would employ help in the house and on the farm.  The children would start picking fruit between school breaks and into adulthood would sew sacks and become a part of the traveling crew harvesting crops all over Evergreen.  Harvests were true team efforts.  A barter system would be reached for labor and harvesting.  Horses were in high demand for plowing and the like.  Labor was generally $2.00 a day for a horse and a man.  This was a typical scene from the Fowler Threshing Syndicate, harvesting grain.  Evergreen was a teambuilding utopia back in the day.  Strength in numbers seemed to be a focus.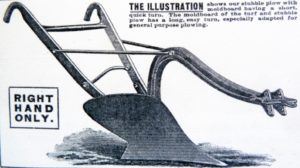 Generations of the Kettmann clan would grow up in Evergreen alongside the Industrial Revolution.  George Kettmann would've farmed just like he had learned to in his Native Germany, very much by hand.  The Farming Industry during this time would transition from horse and plow, pitchforks, sickle and scythe to tractors, threshing machines and haypresses.  George's youngest son, Andrew Kettmann, would develop tools for apricot harvesting.  Clem's children, too, would've hand first on experience transitioning from horse pulled threshing crews to tractor or truck pulled rig.  The Kettmann clan would continuously learn to adapt their farming techniques as the technology improved.  In the 1920's, Clem's son, Julius, would open a garage to help fix machines in downtown San Jose after adapting and fixing machinery on the family homestead.  This legacy can be seen as descendants now operate the Kettmann Machining, Inc. in San Jose.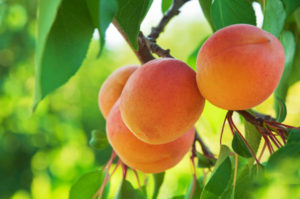 George and Clem would both plant orchards on their properties.  Clemens Kettmann would plant several acres of apricots with their commercial stock going way up.  Mixing his varieties of apricot, Clem created a sweet apricot which was also large and ripened evenly.  Clem's sloped property presented irrigation problems for portions of his orchards.  He found the unirrigated crop was sweeter but smaller than the other harvest.  These were his apricots.  He would find the same to be true of his corn crops.  Those that were naturally watered were naturally sweeter.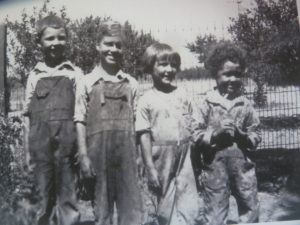 The Kettmann families would plant several acres of prunes and cherry orchards along with their apricots.  The clan also had several acres of vineyards also at their Evergreen property.  Threshing crews would cultivate over a hundred acres of grain, oats and alfalfa from the Kettmann farms.  I never thought about it before, but horses take a lot to feed.  If you have horses for plowing, you need acres just to settle your own horses.  The Kettmann family would continue to grow and branch out in Evergreen.  Into the 1900's their children would take over the roles running the farms and ranches after their education.  Prohibition cause a lot of vintners to pull up their grapevines and retire their wine businesses.  The Kettmanns did not however and made a small fortune continuing to sell grapes for underground wine operations.  Between these ranches and the Kettmann Range, the Evergreen family was sitting pretty.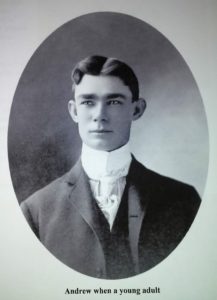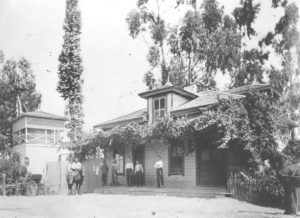 The German American Inventor and all around funny guy, Andrew Kettmann would grow up sewing sacks for grain and maintaining the family farm.  George's son and Clem's youngest brother, Andy Kettmann would open downtown Evergreen's second Saloon along San Felipe Road.  Andrew Kettmann's Saloon became increasingly popular amongst quicksilver miners through World War I.  This spot would be a hub of culture until 1920 when Prohibition was enforced.  Until then, many tipsy tales were told out of Andy's Saloon.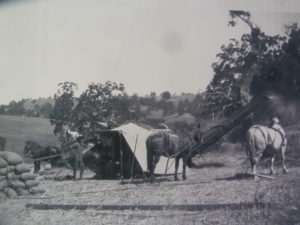 After George's passing in 1912, his property would be equally divided amongst his eleven children.  The Kettmann Family Ranch would continue to modernize with Clem's son's, Louis.  Louis Kettmann would take Clem's horse powered ranch into the present with the purchase of a tractor built from tank parts.  Large mechanical farming equipment would need to be leased or the old machinery would need to be updated.  The rural Village of Evergreen was rapidly changing through the early 1900's.  Cars were a blessed invention and roads would be paved, but open space began to dwindle.  That free path to the Kettmann Range through Downtown Evergreen would close up.  Clem would pass in 1943.  The Kettmann family continued to expand, but some would start breaking away from the family business to pursue their own goals.  Farming in Evergreen would become more scarce as more residents starting moving in.  Managing the wasn't easy business as my interviewee would realize firsthand.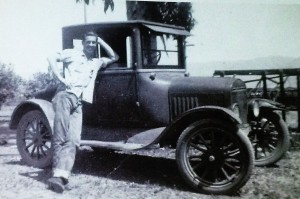 In the summer of 1947, Judge Jerry Kettmann, then just known as Jerry, would lease hay land from Grandma Mary (Vollmer) Kettmann.    It was Jerry's idea to make it rich that summer and buy a convertible to take out coeds from San Jose State.  This same model T, pictured here with Jerry taken over that summer, pooped out in the middle of the road off San Fernando and 4th Street near the University.  Jerry called his cousin to help push the car out of the roadway and into the gas station it pooped out yards away from.  Jerry Kettmann would sell off a nearly paid-off tractor to cover his losses and pay his grandmother back that summer.
George's great grandson and Clem's grandson,  Judge Gerhard J. Kettmann, was born in 1926 in Los Gatos but would soon relocate to his father's Evergreen homestead.  As a boy, Jerry would attend Evergreen Elementary School, then Roosevelt Middle School and San Jose High School.  Kettmann recalls family get togethers with the Chaboya family as a child.   Jerry would throw apricots like snowballs, run through vacant mine shafts and sleep in homemade treehouses in Evergreen.  Judge Kettmann is a huge fan of flying, a fondness he developed on an aircraft carrier in World War II.  Kettmann's father and grandfather could've told him tales of Montgomery's pioneer flights from their own experience.
After serving in the Navy in World War II, Jerry Kettmann later worked in the railroad as a fireman, at the Baron-Gray Packing Company packing fruit and then at the Post Office downtown before attending SJSU for Aviation Engineering then Business and Economics.  Sadly, young Jerry's 1947 dream of striking it rich quick would never be realized.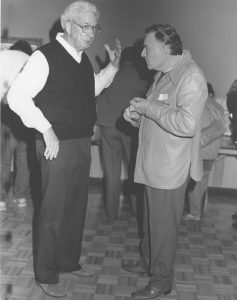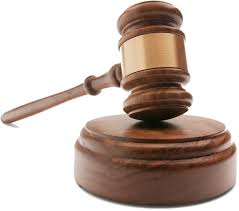 The Honorable Judge Jerry Kettmann was accepted to Stanford Law in 1953 but instead attended UC Berkeley, where he graduated in the upper third of his class.  Judge Kettmann began working as a Trust Attorney for Wells Fargo, but left to pursue trial law with the District Attorney's Office.  Though Judge Kettmann is partial to Civil Law, he told me about 85% of the cases he saw on the bench were criminal cases.  Judge Kettmann would oversee cases at the height of the Civil Rights movement, even appearing in front of an Angela Davis case.  Rioters would shout things and try to frustrate Judges.  It wouldn't work on Judge Kettmann, though.  He removed their signs and have them properly tagged by court officials as the defending attorney tried including them as evidence.  Judge Kettmann would find himself arbitrating through the later part of his career.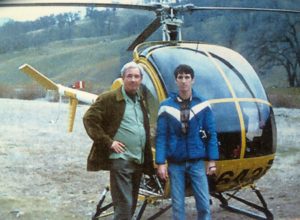 Judge Gerhard J. Kettmann would retire from the Law and write from his Evergreen home.  The Kettmann family historian carries a tradition that began about 150 years ago in Evergreen.  Judge Kettmann, though groomed on the farm, managed to keep up with the quickly changing times.  This area of Evergreen, between Kettmann Road and Neiman Boulevard  was developed beginning in the 1960's.  At 89 years young, Judge Kettmann's enthusiasm is contagious.  Really, I am so proud of my Evergreen people.  It makes my job so easy when they are great and have great stories to tell!  Here's the artwork we have worked up for the Kettmann Family.