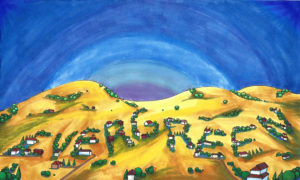 So, how did Evergreen turn from rural farming country to suburban gold?  When did that happen?  I can see it paralleled in the expansion of the Evergreen School District.  To the right is the artwork which symbolizes this change in Evergreen's history.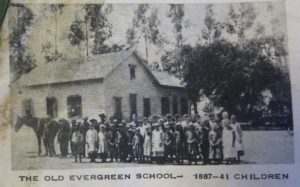 The Evergreen Community took on huge amounts of new residents as City Planning policies changed in the 1950's.  A. P. "Dutch" Hamann was City Manager from 1950-1969.  At the time, Evergreen School District had one school, the schoolhouse, which then moved and is now off Fowler Road.  Evergreen would operate out of a single school for over 100 years.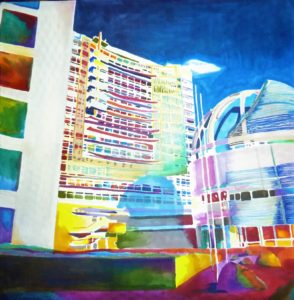 Dutch Hamann would focus first on upgrades that made new development and expansion possible, then focus on incorporating or annexing large portions of land which hadn't been before.  This was driven by a competition with neighboring cities.  Dutch wanted San Jose to be the largest city around.  Hamann's City staffers executed 1377 annexations through his tenure.  Freeways and government services would rapidly expand throughout the new sections.  After moving from Monterey Road and downtown San Jose, Highway 101 would be completed through Evergreen and San Jose in 1959.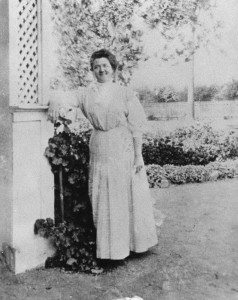 During this time, Evergreen, the District, outgrew the Evergreen Elementary School campus with Superintendent George V. Leyva.  K.R. Smith Elementary School would open its doors in 1962.  Katie Smith, one time teacher and superintendent would live to see the school opened in her honor at the age of 92.

In 1965, O. B. Whaley would open, being named after a well-respected orchardist and longstanding member of the Schools' Board of Trustees.  Cadwallader Elementary would open the very next year, named after the gentleman who donated land to the WRC and the original school house.  Holly Oak would open the following year.  From 1962-1967, Evergreen School District would grow from two schools to five schools.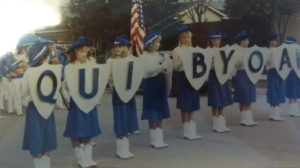 Evergreen didn't stop expanding here.  As neighborhoods were built, schools were also constructed.  Evergreen School District continued growing with the opening of Laurelwood Elementary School and the District's first Middle School, Quimby Oak, in 1968.  Quimby refers to J. A. Quimby, 1870's Evergreen landowner and one time San Jose Mayor.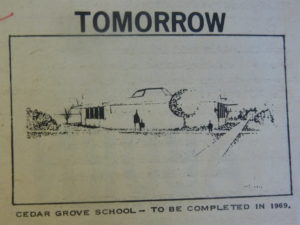 1969 would see Cedar Grove Elementary School opened and is scheduled for a major update coming soon.  From 1960-1970, Evergreen School District would go from one school to eight.  The Evergreen Community would also have its first high school built, Silver Creek High School in 1969.  It would be East San Jose's third High School.  Before, Evergreen teens would go to James Lick High School or Andrew Hill High School.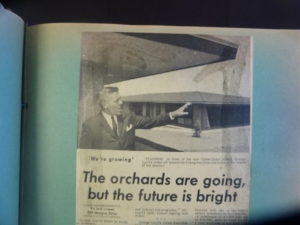 Dutch Hamann would leave City Hall in 1969, making room for anti-development candidates.  This, too, meant the rural Evergreen community would take a little breather from the expansion.  Farmers were being bought out by home developers, because the land was more valuable than the crop.  With all these new Elementary Schools being built, however, one Middle School wouldn't do it for Evergreen's growing young ones. Evergreen would open George V. LeyVa Middle School, named after the previous Superintendent.  George LeyVa would have a heart attack at 57.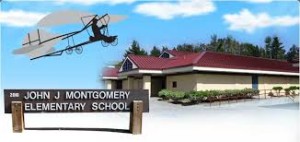 With anti-development candidates in office and Mayor Norman Mineta at the helm of San Jose's City Planning, schools would be opened to serve the newer developments while efforts would be made to preserve open space and farm land.  John J. Montgomery Elementary School would open in 1975, named after the pioneer aviator.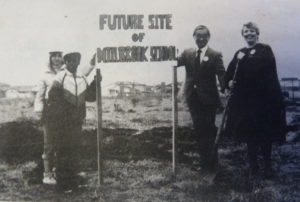 One-time Evergreen teacher, principal, and then Superintendent, Jim Smith would also see the opening of several Evergreen Schools.  In 1981, Norwood Creek Elementary School would be opened.  Evergreen School District would continuing growth but at a more comfortable pace.  Millbrook Elementary School would open in 1985, and Dove Hill in 1988.  Again, a new Middle School would be added to the Evergreen School District's portfolio with Chaboya Middle School in 1991.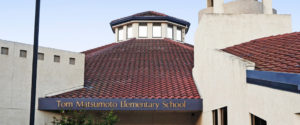 Silver Oak Elementary School would be built alongside Silver Creek Country Club in 1994.  Tom Matsumoto Elementary School would open its doors in 1998 with the new construction of the Evergreen Village Square.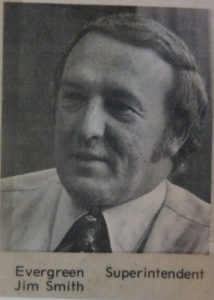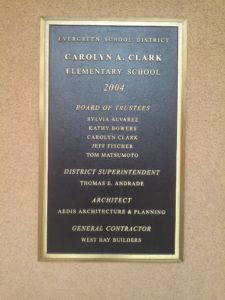 James F. Smith Elementary School would open in the Superintendent's honor in 2000, as the Ranch Country Club was being constructed.  I look forward to a sit down with the former Superintendent to discuss the pattern of growth studied in this article.  Carolyn Clark Elementary would open with the Mirassou vineyard developed into new homes in 2004 and as Evergreen Village Square townhome development continued.  Bull Dog Tech would branch off from LeyVa Middle School in 2014, providing a more technical education.

There's now discussion of a much needed Elementary School in the Meadow Faire neighborhood between LeyVa Middle School and Eastridge Mall.  The best way I found to describe how Evergreen, the Community, grew up is through the History of School District.  I could track the land purchases and sales, but if you don't know all of their names, this is clearer.  Schools would be implemented where construction was taken place or where communities in rural Evergreen had already development.  Dutch Hamann's Planning policies meant a swift expansion from 1960-1970 and Eastside San Jose's third high school in Evergreen.  A rate of growth within the Evergreen Elementary School District can be measured from 1970-present which is steady, necessary and likewise communicative of when the neighborhood was really established.  The Evergreen School served 47 children in 1887.  The District served 13,126 students in 2013-14.
Furthermore, education and the Evergreen School District is a redundant theme throughout this artwork.  Schools are symbols of their neighborhoods and indicators of their timeframe, as just discussed.  Here are the pieces dedicated to the Evergreen Elementary School District.